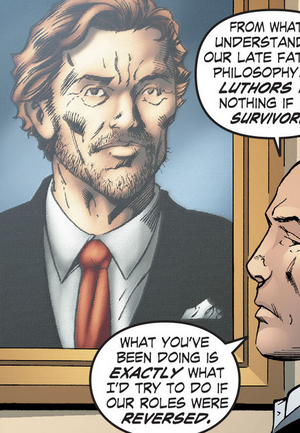 Lionel Luthor
Personal Info
Full Name:
Lionel Luthor
Vital Statistics
Status:
deceased
Species:
Human
Hair Color:
Brown
Eye Color:
Blue
Family
Parents:
Lachlan Luthor (father) †
Eliza Luthor (mother) †
Spouse:
Lillian Luthor (wife) †
Kid(s):
Lex Luthor (son)
Julian Luthor (son) †
Lucas Luthor (son)
Tess Mercer (daughter; "deceased")
Grant Gabriel ("son") †
Additional Information
Job:
Founder of LuthorCorp
Number of Issues:
3
Lionel Luthor (1944—2008) was the founder of LuthorCorp, the father of Lex Luthor and Tess Mercer, the emissary of Jor-El, and was a member of Veritas.
On the TV Series
Edit
In the Comics
Edit
His portrait was shown as Lex Luthor talks to his sister.
Lionel Luthor first appeared in the pilot episode of the TV series. He was the first character to be seen on screen and he also speaks the first line of the series.
Lionel was portrayed by the actor John Glover. He was a recurring character during season one and was a main character from season two til season seven.